---
DOITE PIRINEO PRO 8 15980 TENT
Doite Pirineo Pro 8 Tent - 2 Room - Sleeps 8

Spacious dining area and multiple windows for better lighting PVC favors a family atmosphere. Two bedrooms, one with internal division.

Doite Pirineo Pro 8 Tent - 2 Room - Sleeps 8 Features:
Top of the line family tent for 8 people with two bedrooms and a common entrance area
Polyester fly: 190T density, 75 D. PU coating
Perfect for the demanding NZ conditions with 3,000mm rain rating, seam taped, UPF 50+, mud flaps all around and heavy duty 210g/m2 flooring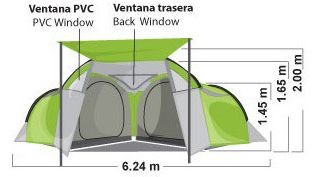 Quality 12.7mm fibreglass, 16mm steel poles
Carry bag included
Height: main height 2m; entrance area height 1.65m, bedroom height 1.45m
Width: 6.24m
Length: 4.5m
Bedroom size: 2.4 x 2m

Doite Pirineo Pro 8 Tent - 2 Room - Sleeps 8 Spec's:
Taped seams and UPF 50 protection.
Cubretecho polyester: 190 T density, fiber thickness 75 D.
210gm/m2 polyethylene floor.
Fiberglass rods of 8.5 mm.
Capacity: 8 people.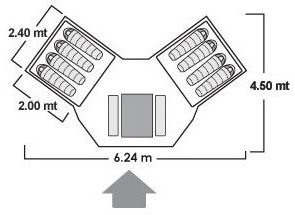 Height: 1.45 m / 1.65 m / 2.00 m
Width: 6.24 m
Length: 4.50 m
Bedrooms: 2.00 mt x 2.40 mt c / u
Weight approx.: 13.3 kg

Approx  Packed-away size: 700mm X 300mm X 300mm
---
Trade customer please Log in
To purchase please EMAIL us for your local retailer
---
Rough price guide $748.50